Distance, Dedication, & Direction: Track & Field at SHHS
Take a moment to consider the last time you saw track and field athletes at Science Hill in their element. You may have seen a pack of distance runners on State of Franklin one afternoon, making haste to finish their eight-mile-long run. Perhaps you saw some sprinters in the weight room, refining their fast-twitch muscle fibers or doing block start drills in preparation for a meet the next week. Maybe you have even seen pole vaulters or long jumpers in action, relegating a precarious balancing act to mere clockwork. Or maybe you saw Jenna Hutchins running around campus once, alone, because she was then the fastest high school girl in the US, and no one could keep up with her.
I caught up with the track team one Thursday afternoon to ask coaches and athletes how the sport has defined their time at Science Hill. As a former track athlete myself, it was interesting to experience the day's practice as a spectator. I was glad I was a spectator, too, because both the sprint and distance teams were doing time trials that day.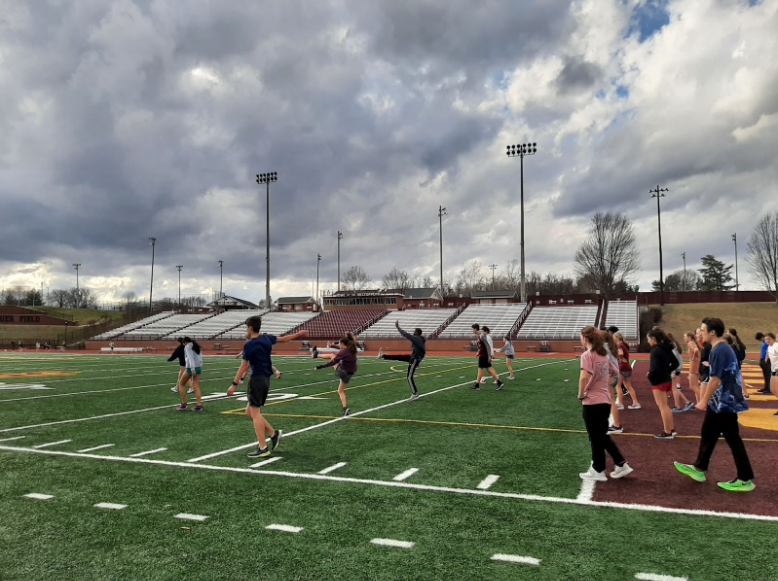 For Owen Johnson, a decorated mid-distance veteran and 2-time state championship qualifier in cross country, it's all about the people. "I love the people here, and it's a great place to come build friendships and get better at something…," he added, fondly recalling last year's track state championship and the other guys on his 4x800m relay team. Together, the relay team placed 4th at the state championship last season, and Johnson has been eyeing the 800-meter school record of 1:54 ever since. As a junior, he'll have two seasons to beat it. 
Varsity junior Mick Stokes has a different take, though. Track at Science Hill has helped him adjust to his transition from the St. Mary's School to Science Hill over the years, especially as he battles hip injuries and rebuilds his mid-distance strength. "I've learned from track…that life doesn't always go how you expect," remarked Stokes. 
At the heart of the distance operation is coach Maggie Whitson, the embodiment of tough love in the sport. Her tenacity for excellence on and off the track motivates athletes to achieve personal bests and has propelled the 4×800 and 4×400 relay teams to go head-to-head with distance powerhouses like Boone and Dobyns-Bennett in recent years. Her favorite part of coaching is giving back to the sport which has given her so much, by instilling a competitive attitude in her athletes and passing down her training expertise. "Are you going to leave a legacy that will stand for years to come and one that you can be proud of?", she frequently asks her athletes.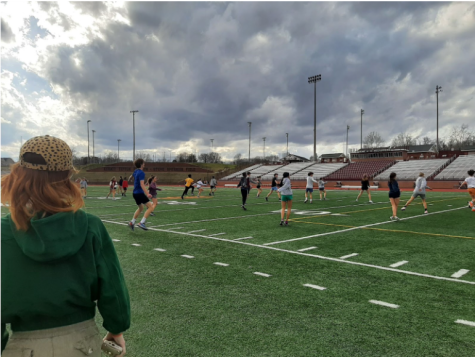 "
Are you going to leave a legacy that will stand for years to come and one that you can be proud of?
— Coach Maggie Whitson
Concerning discipline and excellence though, it's hard to ignore the remarkable athletic and coaching record of head coach Anthony Jones. As a 1994 Olympic Qualifier Semifinalist in the 100m dash and as the 1994 Big Ten Athlete of the Year, he has piled up many an accolade during his career. Despite this, it's his cherished athletes that bring him back to the sport each year. "My inspiration comes from seeing so much of me in so many ways in all the athletes I have coached and that is what keeps me going in giving back to the sport of track and field," he emphasized. When the laps have been run, Jones also ensures that the Topper track athletes dedicate themselves to community leadership, too. Science Hill track often volunteers to assist with local track meets, the Senior Olympics, and even Northside's annual Reading Night.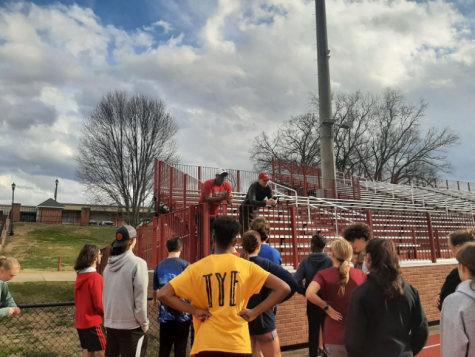 Track & field is a sport of several disciplines, and is often an excellent compliment to fall sports like girls soccer and cross country. Senior sprinter Marli Cevallos acknowledged this, explaining how track has allowed her to stay in shape for soccer season. She admitted though, that to her, track has become something bigger. "I think that I've come to love this sport more than I expected to, just because it shows lots of ways where people can prove their strength in workouts. I mean, you're choosing to run, for fun, which is not easy mentally." 
Distance athlete Grady Edmisten had similar sentiments about improving upon his 4:43 mile personal best, but also expressed an appreciation for the relationships he has built during his time as a runner. "I remember when I was a freshman I was really nervous and anxious around those who were older than me, but I think overall [track has] helped me become a more extraverted person," he noted. A smile crept across his face as he recounted last year's Hardin Valley Invitational meet in Knoxville, where several of the distance boys bundled up in sleeping bags to stay warm before their races. The same camaraderie was abundantly present on the day I interviewed Edmisten, as he encouraged the boys in the locker room before their 800m time trial. 
Something else that was abundantly clear from my interviews was that track athletes leverage their work ethic both on the track and in the classroom. Senior Audree Yobst described track as a sport which has allowed her to develop and master time management, something that has undoubtedly been crucial to her maintaining a 4.0 GPA. Pole vaulter Will Hagemeier expressed nearly the same sentiment, adding that the discipline of vaulting has taught him to push his limits and set goals for himself. Like Owen Johnson, he hopes to break the pole vault school record this season.
The more time I spent interviewing, the more I missed my time as a track athlete. I owe my distance friends and coaches a debt of gratitude for sure. Such is the nostalgia of a burnt-out senior like myself, I suppose. I was reminded, though, of how Science Hill track & field athletes are unequivocally distinguished on and off the track. A season full of hard-fought training and hard-won races awaits the Toppers as they begin their official season on February 13th.