Hillside Cafe Expands Business, Trains Students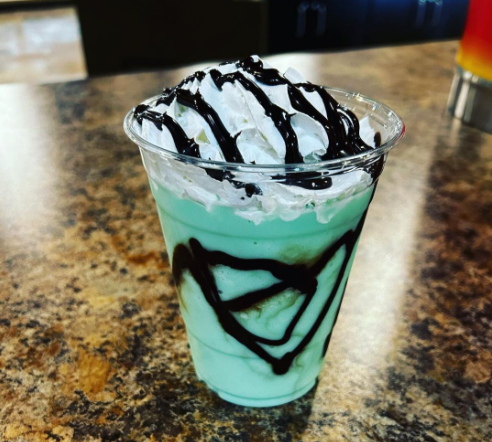 The Hillside Cafe: Science Hill's own mini starbucks. Started in 2016, the cafe has provided many students with opportunities to learn how to manage, market, and create a business that sells to a large student body, educating students about the business and hospitality industries. Recently, class ownership of the cafe has switched; the Hillside Cafe used to be run by the Marketing CTE class, but in 2022 it was transferred to the purview of the Culinary Arts class. 
During the summer of 2022, the cafe was renovated to add more countertop space, with exciting additions like a brand new pastry case and slushie machine. These advancements have helped create new business ventures with new food products and a wider variety of drinks for sale. Another addition to the cafe is the brand new register, which allows the cafe to take cards and CashApp from students. Now, it is much easier for students to purchase drinks and pastries without cash and just charge their card or phone. This addition opens up many new possibilities for revenue and options for growth. Currently, sales paid for by card represent about 25% total revenue. 
The Culinary Arts program, through trials and tribulations, has found a successful way to manage and produce both pastries and drinks for students with the help of all three class periods. This semester, both Block 1 and 2 are Culinary 1 classes who complete a variety of tasks for the coffee shop. This includes grinding coffee beans, making lemonade and simple syrup, and baking brownies and other daily pastries. 
Block 3 is Culinary 2, charged with running the cafe and learning how to market and package products. Culinary 2 is split during class time; half are sent to the coffee shop during the lunch period while the other half stays down in the kitchen fulfilling tasks like catering events, teacher meals, and restocking supplies. The rotation of students happens semester-long as students are constantly trained in new cafe positions such as cashier, blender, drinks, and runners.
Finally, Blocks 2 and 4 have a Work Based Learning period where four students have currently signed up to help in the cafe. Their tasks are setting up and cleaning the cafe, recording inventory on sauces, syrups, and coffee, and creating task lists for Culinary 1. All four blocks work together to keep the cafe running smoothly. 
Culinary student Deshayla says, "There are still some kinks to work out but working in the Cafe is a lot of fun."
The Hillside Cafe teaches students a variety of different skill sets. Students learn business and management skills, as well as safety and sanitation. Everyone has roles in recording inventory and making sure that all ingredients and products are stocked and ready for the next day. Following these procedures keep the cafe open and all customers safe. 
As this program has started to grow, cafe workers have implemented new ideas such as Specialty Drinks and pastries. With the new year, some novelty drinks include holiday-themed beverages like Valentine's Day smoothies, Shamrock Shakes, and Irish Creme Hazelnut Lattes.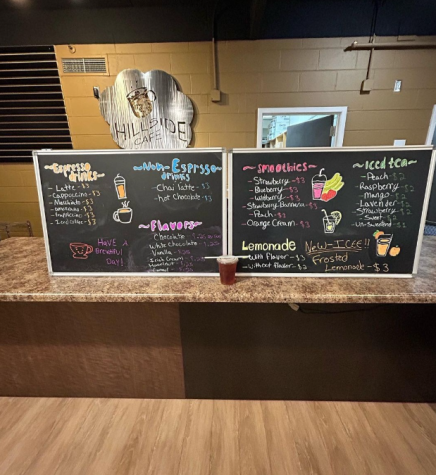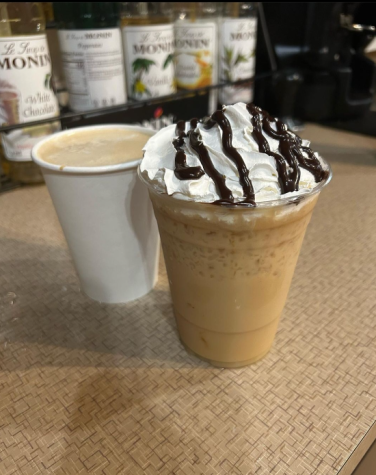 The new pastry schedule offers an additional twist: Muffin Mondays, Turnover Tuesdays, Wacky Wednesdays, Thirsty Thursdays, and Flakey Fridays. Each day of the week there will be pastries and brownies for sale ranging from $1-$3. Pastries are prepared by both Culinary 1 and 2 in the kitchen and transported to the Cafe. 
Finally, culinary students have taken initiative and thought up many menu options for the new teacher meals sold through the cafe, available via delivery or pickup during Block 3 for Science Hill faculty. Options include a sandwich, soup, and salad totaling to about $10. Teacher meals are a new source of profit and grow the funding for the culinary program. 
If you want to check out all these delicious developments for yourself, visit the Hillside Cafe during your lunch period!